This article applies to:

- AB Tutor v7
- AB Tutor v8


Installation

Using Active Directory or similar
We recommend using Active Directory as the simplest method to push AB Tutor/Client out to the computers on your network. If you don't have an AD setup, the Remote Deployment Utility can be used to push the software out to computers, as long as they are powered on.
Before deploying with AD, we recommend that you use the Remote Deployment Utility to create a modified MSI with your connection password pre-set. To do this, open the Deployment Utility from the Tools menu.
To open the Deployment Utility select it from the Tools menu. Next, click the "..." button at the top to browse for the installer file. If the installer is recognised as an AB Tutor installer, the Configure AB Tutor button will be ungreyed, and will allow you to set the options for the install: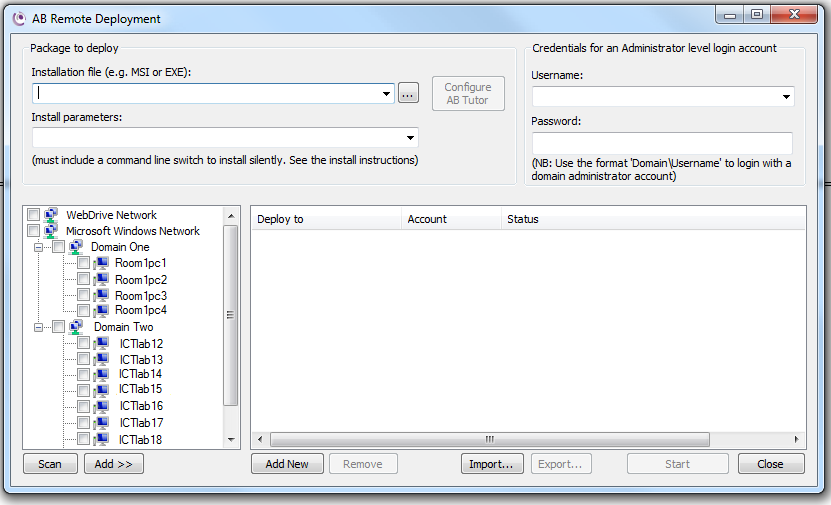 Here, you can select what part(s) of AB Tutor are installed - client, tutor or both - where it installs to, the connection password and whether the mirror driver is included. Finally, click the Create MSI only button to build a modified MSI. This creates a file called abtsetupclientonly8xx.msi (or tutoronly or both) which when deployed through Active Directory will install AB with the options specified.
Remote Deployment Utility
If you wish to use the Remote Deployment Utility to install the software as well as the initial configuration, first follow the steps above to configure the installer.
Next, select the computers you wish to install to from the list on the left, then click Add at the bottom. Additional machines can be added manually by hostname or by IP address range by clicking the Add New button at the bottom. Additionally, groups of computers can be loaded and saved using the Import and Export buttons. After selecting computers, fill in a username with administrator access and the associated password in the boxes in top right. Finally, click Start and the software will be installed on the selected machines.
Note that the RDU requires file and print sharing to be enabled on the target machine in order to allow Windows to make a connection to it.